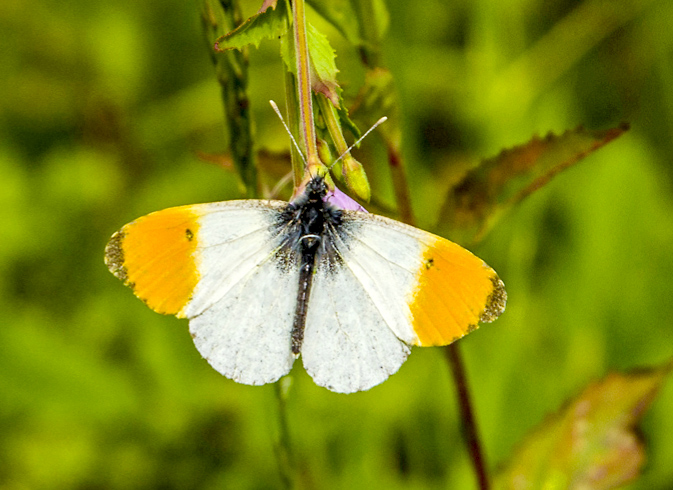 Sickleholme Nature Notes
Although, like the previous month, April experienced the vagaries of some very different weather patterns the course certainly progressed in terms of our flora and fauna. It is easy to forget that one of the charms of our course are some splendid trees and this becomes so apparent when the leaves open. One of my favourite trees is the Whitebeam which is made most attractive by even a modest wind when the underside of the foliage adds a silvery tone to the pale green leaves. There are two splendid examples to the rear of the 7th green. Another specimen tree that raised comment during the month was the superb Field Maple between the 12th green and 13th tee. Do take a look when you next pass either species.
With so many members now contributing to these notes, it is always interesting to see what impresses you. A number reported on the eruption of Orange-tip butterflies which appeared in mid-month. Whilst the females are all white and could be mistaken for one of the three other "white" species that occur here, the males have a diagnostic orange tip to the wing which you can see from the photo image. Our fourth butterfly species for the year, with a later sighting of a Green-veined White making five, and hopefully about another dozen to follow.
Amongst the mammals, Rabbits were easily observed and Matt and his team had regular sightings of Brown Hares, some around the machinery sheds. They also suspect the presence of Badgers which a couple of members saw signs of last year. More wildflowers appeared and there was a nice patch of Bluebells below the 9th tee.
Highlights amongst the avian species included the arrival of summer visitors. Swallows were reported in the second half of the month and my first attempted count of warbler territories suggested seven Chiffchaff, four Blackcap and four Willow Warblers so far; the latter species favouring the railway line hedge. Resident species included at least three Nuthatch in song, several Lesser Redpoll claiming territories and a less usual sighting in the form of a Treecreeper which I only heard but another member saw. You may just recall that in last month's notes I speculated that a large hawk, seen twice but without the benefit of binoculars, may have been a Goshawk. I reported that elsewhere and one of the raptor protection team has found a nest only a short way from the course. I thus feel comfortable about claiming a splendid addition to our growing bird list. Please keep your sightings coming. Next month, I plan a closer look at our small pond to see what is developing there.
Bryan Barnacle